Hays leads House in honoring former Rep. Berns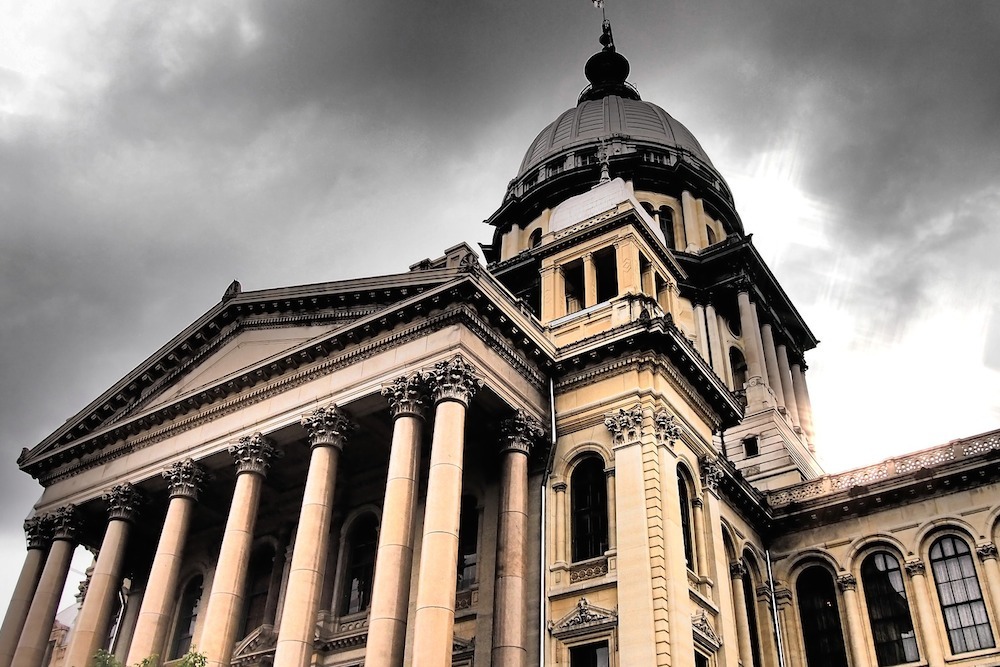 A resolution sponsored by Rep. Chad Hays (R-Catlin) to honor former state Rep. Tom Berns (R-Urbana) brought an outpouring of bipartisan sentiment to the House floor recently.
HR888 mourned the passing of Berns and offered sincere condolences to his family and friends and brought silence to the House floor, with Reps. Jim Durkin (R-Western Springs) and Carol Ammons (D-Urbana) sharing their sentiments about the gentlemen's gentleman.
"In 2000, Rep. Berns was appointed to the Illinois House of Representatives to fulfill an unexpired term of then state Rep. Tim Johnson," Hays said of Berns, who died Feb. 19 at the age of 72. "After completing that term, he was re-elected and served one term."
Hays said during Berns' tenure as a state representative, he sponsored 64 House bills, two Senate bills and 27 resolutions and earned many awards throughout his career including Young Engineer of the Year and the Illinois Professional Land Surveyors Land Association Distinguished Service Award.
"The list goes on and on and on," Hays said, adding Berns was a professional professional. "I don't think I ever had the privilege of interacting with Rep. Berns when he did not have smile on his face or have a good word for everyone in the room, and he served with enthusiasm and distinction in his home community."
Berns, who graduated from the University of Illinois in 1968 as a environmental engineer, founded his own firm, Berns & Clancy Associates, that Hays called one of the premier businesses in central Illinois. Hays also noted that Berns taught as an adjunct professor at his alumni.
"There are still a few members of this august body that served with Rep. Tom Berns and I am sure that you will agree with me that I have never met a nicer man," Hays said.
He was here for the right reasons, Hays continued, adding Berns was positive, even in defeat.
"I think it really re-energized him and made him become even more active in the community in sharing his good will and in sharing his very substantial knowledge in professional civil engineering," Hays said.
Ammons used her point of personal privilege to show respect and ask Hays to please add her to the death resolution.
"I had the distinct honor as a former Champaign County Board member to work with Mr. Berns at Berns & Clancy for five years consecutively," Ammons said. "I concur with Rep. Hays that (Berns) was always smiling and he was always helpful."
Ammons said in researching Berns' career, she found he had worked on almost every single project in Champaign for 40 years. "One building or another has his footprint on it," Ammons said.
Durkin said he was one of the nicest men he ever met, "probably a little too nice for this chamber."
"But I think there is something we can learn from Tom Berns, that he always approached his job with enthusiasm and respect for all no matter what the issue was," Durkin said. "As Chad says, he was a gentlemen's gentlemen."
Durkin ended by altering an adage.
"There is an expression we have all heard over the years that good guys finish last," Durkin said. "Not in this case. Tom Berns was a good guy and he finished first."
Want to get notified whenever we write about any of these organizations ?
Next time we write about any of these organizations, we'll email you a link to the story. You may edit your settings or unsubscribe at any time.
Sign-up for Alerts
Organizations in this Story
Illinois House of Representatives • Illinois Representative Chad Hays (R-104th)
More News