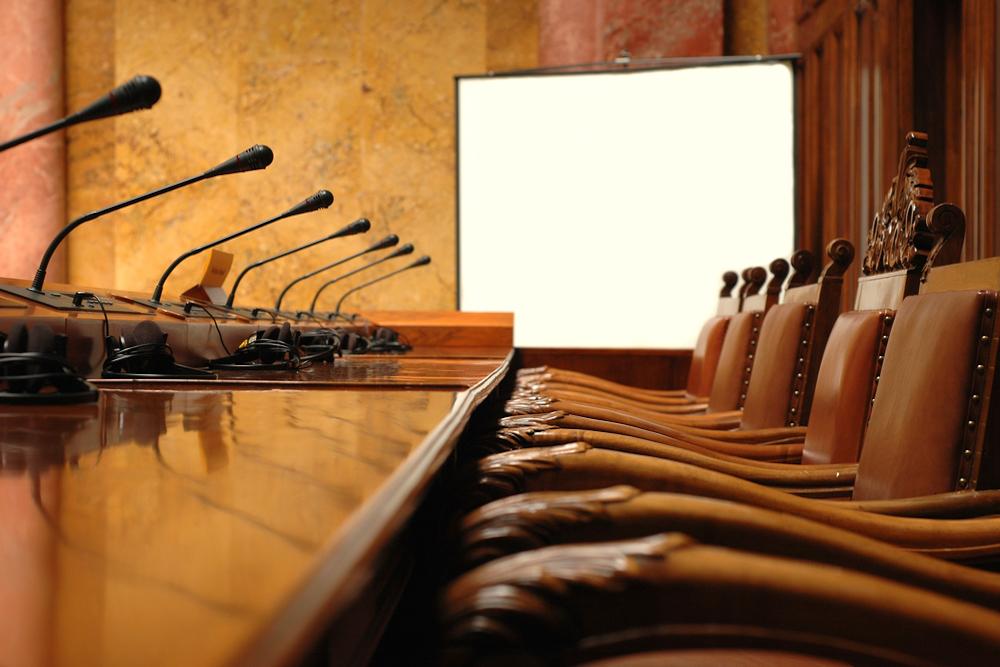 City of Danville Public Works Committee met Sept. 10.
Here is the minutes provided by the committee:
#1 CALL TO ORDER
Chairman Mike Puhr called the meeting of the Public Works Committee to order at 6:00 p.m. at the Robert E. Jones Municipal Building, 17 W. Main St., Danville, Illinois.
Roll Call was answered by Chairman Mike Puhr, Aldermen Bob Iverson, Mike O'Kane, Sherry Pickering, and Aaron Troglia with one Vacancy in Ward 1. Vice Chairman Rick Strebing was absent. A quorum was present. Chairman Puhr announced Vice Chairman Strebing's absence was excused.
Others in attendance included Mayor Rickey Williams, Jr., City Clerk Lisa Monson, City Comptroller Shelley Scott, Public Transportation Director Lisa Beith, Senior Planner Tyson Terhune, Police Chief Chris Yates, Public Works Director Carl Carpenter, 6 audience members, and 2 news media.
#2 APPROVAL OF MINUTES
Chairman Puhr presented Minutes of the regular meeting of August 13, 2019. Alderman Iverson moved for approval as presented, seconded by Alderman O'Kane. On the voice vote, all ayes, no nays; the motion so ordered.
#3 APPROVAL OF AGENDA
Chairman Puhr presented the agenda. Chairman Puhr announced an amendment to Item 8-B and the addition of discussion Item 9-A-4 Pick-up Truck Discussion. There being no further changes, Alderman Pickering moved for approval as amended, seconded by Alderman Troglia. On the voice vote, all ayes, no nays; the motion so ordered.
#4 AUDIENCE COMMENTS
Kerry Barrett of Danville spoke regarding adult use marijuana and zoning. He stated Cresco Labs has the ability to open up five new stores in Illinois and Danville is on their list of desired locations and would like to start remodeling 369 Lynch Dr., currently owned by PK Ventures Inc., by October 1st Mr. Barrett stated he and Mr. Thomas do not have an agreement with Cresco for the building realizing it is contingent upon the approval process with the City for them to locate in Danville. Cresco have stated they will use local contractors for their remodeling if they locate in Danville.
Lisa Hunt of Danville and co-owner of RH Enterprises, spoke concern of homes in her area that are being remodeled from unlicensed contractors. Also, the houses are not insured because they cannot pass a fire inspection by an insurance company and if they catch fire as well as a house 25 feet from that house, the insurance from the other homeowner will be responsible for it. The insurance company can go back on the landlord if they can locate it at their expense and if they cannot what happens to the neighbor is their insurance company will pay them, but their insurance will go up and the homes not insured do not support the firefighters in any way who are going in the houses to fight the fires in these houses that are not insurable to the insurance companies because they do not have fire systems such as fire alarms in the house. She does not understand how the City allows the people to continue to function doing this on a day to day basis when they are risking people's lives, property values for the sake of a dollar.
#5 CHAIRMAN'S COMMENTS
Chairman Puhr asked everyone to remember the eighteen year anniversary of September 11, 2001. He also asked that thoughts and prayers be extended to retired City Clerk Janet Myers and her family in the death of her grandson over the past weekend.
#6 PAYROLL
Chairman Puhr presented Payroll for September 6, 2019 of $72,923.38. Alderman Pickering moved to dispense with the reading and asked for approval, seconded by Alderman Iverson. There being no questions, the roll call vote being:
Ayes: Aldermen Troglia, Iverson, O'Kane, Pickering, Puhr
Nays: None
Absent: Alderman Strebing
Motion carried 5 to 0 with 1 absent and 1 vacancy.
#7 VOUCHERS PAYABLE
Chairman Puhr presented the Schedule of Vouchers Payable for a special run for September 5, 2019, of $30,300.00 and regular run for September 10, 2019, of $261,547.28. Alderman Strebing moved to dispense with the readings and asked for approval, seconded by Alderman Troglia. After all questions were addressed, the roll call vote being:
Ayes: Aldermen Iverson, O'Kane, Pickering, Troglia, Puhr
Nays: None
Absent: Alderman Strebing
Motion carried 5 to 0 with 1 absent and 1 vacancy.
#8 PUBLIC TRANSPORTATION - Lisa Beith, Director
#8-A) Chairman Puhr presented a resolution awarding Bid 629 for Fleet Liability Insurance to Hudson Insurance Company in the premium amount of $80, 184.00 for the year October 1, 2019 through September 30, 2020. Alderman Pickering moved to dispense with the reading and asked for approval, seconded by Alderman Iverson. After all questions were addressed, the roll call vote being:
Ayes: Aldermen Iverson, O'Kane, Pickering, Troglia, Puhr
Nays: None
Absent: Alderman Strebing
Motion carried 5 to 0 with 1 absent and 1 vacancy.
#8-B) Chairman Puhr presented an amended resolution awarding Bid 630 for the Purchase and Installation of Reconditioned Transit Engine for 2008 Gillig Low Floor Transit bus to Cummins Crosspoint in the amount of $56,682.06, with the funds to come from Materials to Maintain to Vehicles and Maintenance of Vehicles. Alderman Troglia moved to dispense with the reading and asked for approval, seconded by Alderman O'Kane. Director Beith stated the amendment was necessary to include the name of the vendor. She also stated the price may be less depending upon whether Quote #2, #3, and #4 are needed for the repair. There being no further discussion, the roll call vote being:
Ayes: Aldermen O'Kane, Pickering, Troglia, Iverson, Puhr
Nays: None
Absent: Alderman Strebing
Motion carried 5 to 0 with 1 absent and 1 vacancy.
#8-C) Items of Information
#8-C-1) Director Beth presented the Monthly Recap for August 2019. which included Ridership Reports Monthly Revenue Record, and Ridership History. The August fixed route ridership totaled 57,173. The July total ADA ridership was 739 rides, with the August ADA ridership report to be given next month. The total revenue for the month of August was $29,952.99.
#8-C) Other Items of Information
Greyhound Bus Service and Lee-Ogle Transportation will be at the Richard Brazda Bus Terminal at 10:00 a.m. for a ribbon-cutting ceremony on Thursday, September 12th. The new route has been operating for eight months.
The bid for the roof repairs is for insurance work received from the hail storm and will be opened September 26th
The bid for the Administrative upgrades will be due on November 13th as it is more complex than a typical bid.
#9 PUBLIC WORKS - Carl Carpenter, Director
#9-A) Items of Information
#9-A-1) Danville Area Transportation Study (DATS) Update
Planner Terhune reported the DATS-MPO Five-Year Long Range Transportation Plan will be due at the beginning of next year so that is something he will be starting on very soon and will be taking care of in-house. Chairman Puhr questioned the DATS status with the upcoming 2020 Census and Planner Terhune responded it depends on the status of the 2020 Census on whether the MPO area gets below 50,000 then we would lose the DATS status and that is one of the items that has been discussed at the DATS meetings to try to go over all of the information that we need to get ready for with the changes the City is going to see and how to resolve that situation if it happens. The area has lost it before and it has come back and it really depends on how the Census defines the metropolitan planning area and that is completely up to the Census. The results should be received by the end of 2021, beginning of 2022 and then there will be a timeframe to settle what needs to be done to resolve DATS.
#9-A-2) H&L Landfill Update
Director Carpenter reported Eric Childers sent in the quarterly report, as instructed until the IEPA closes the site, to the Danville Sanitary District to state the City is not discharging anything anymore.
#9-A-3) Project Updates
Director Carpenter reported staff has started the Sealcoat program and some of the minor streets have received the washed river rock and Michigan St. and Seminary St. have been done
The sixth building was taken to the ground today at Fair Oaks Housing complex according to Director Carpenter. The City has received the first payment from the Housing Authority to cover the expenses from the first two buildings for a little over $54,000.00. He also reported the Housing Authority and Mayor Williams signed the agreement to proceed on the last building.
#9-A-4) Pick-up Truck Discussion
Director Carpenter handed out a quotation from Morrow Brothers Ford Inc. along with a Draft Resolution for the Purchase of a 2019 Ford F150 Regular Cab 4x2 8' Bed Pickup Truck. He announced Public Works is down five vehicles. The truck would come from Morrow Brothers Ford with the State bid in the amount of $23,070.00 and the cost of the truck would come from the Solid Waste Fund-Vehicles budget as there is currently $25,000.00 in the budget. He asked the Committee to consider the resolution for full Council action next week as the vendor has the trucks in stock and they are on a first come, first serve basis. Mayor Williams announced Director Carpenter and Engineer Cole are currently working on a Five-Year Plan that will be presented to the Council that will assist with Capital needs in the future. The consensus from the Committee was to take it to full Council on 09/17/19.
#10 CLOSED SESSION was not needed.
#11 ITEMS OF INFORMATION
#11-A) Assistance to Firefighters Grant Award
Mayor Williams announced the award in the amount of $251,700.00 received from the U.S. Department of Homeland Security FEMA for the Fiscal Year 2018 Assistance to Firefighters Grant (AFG) to help pay for equipment and training procured for the new Firefighters. He stated currently the Fire Division budget is a little bit behind budget which is only because of this award is not there, but once the award is there, we should be back on track for the most part.
#11 Other Items of Information
Adult-Use Marijuana Zoning Requirements – Planner Terhune stated there are a few topics to think about on how to address the zoning changes pertaining to recreational marijuana dispensaries. He handed out a copy of the ordinance for medicinal marijuana dispensaries with the new language and new suggestions for the table of uses and district regulations. The adult use dispensaries are regulated through the Illinois Department of Financial and Professional Regulation and they will be issuing 75 licenses before May 1, 2020 and will increase as the years go on and are expected to issue up to 110 more by 2022 and there will be more after that. The initial round for adult use is one location per license so we are looking at one license. The Danville Bureau of Labor Statistics Region has gotten this license and just so we are clear that is Vermilion County so whatever ordinance we pass is going to affect the City of Danville only. The three options moving forward are prohibition, allowing it, or postponing the decision by a few months. The medical cannabis is in place and was approved on September 16, 2014 which allows for dispensaries to be permitted in the B-3 general business zones with special-use permits; cultivation centers are permitted in agriculture special use in the 1-2 General Industrial. The restrictions the dispensaries have through the State are they cannot locate within 1,000 feet of a care facility or any type of school, within a residential district, or within 1,500 feet of another dispensary. Cultivation centers have similar restrictions, but they are 2,500 feet from care facilities and 2,500 feet from school and 1,500 feet from another cultivation center. The regulations the State put into place for medicinal dispensaries and cultivation centers may change once the year passes when adult-use is approved. He feels the medicinal and adult-use should be combined into one ordinance and give them the same regulations. Adult-use dispensaries cannot sell alcohol, there is one license for one location, drive thru windows are not allowed, they will not be able to deliver, and there is limits on amount of possession. State regulations dispensaries can operate between 6:00 a.m. and 10:00 p.m. and the City can make changes to those hours. Planner Terhune stated things the City will want to consider are where will we want to zone the dispensaries, what regulations do we want to follow, determine how many licenses we will allow in Danville as only one is coming now, but more can come in the future, allow marijuana consumption on the premises, and establishing civil penalties for violations. His thoughts have been to follow what we already have in place with medicinal regulations in the zoning district in the B-2 and B-3. Mayor Williams stated we need to know if we are going to allow it to be sold first and what percentage is going to be approved for the tax. The maximum we can ask for is 3% plus the 1.25% for our local sales tax. Counsel Wesner is working on an ordinance which will go to the City Council on September 17th Director Carpenter stated Public Works will come up with a basic planning model and stay in touch with Mr. Wesner.
#12 COMMITTEE MEMBERS' COMMENTS
Chairman Puhr asked about e-mails he has received regarding 5G and the possibility of being sued since he is an elected official. Mayor Williams stated he has heard nothing about this region or the State receiving 5G.
Mayor Williams handed out an updated Video Gaming spreadsheet regarding Gaming Revenue versus Other Revenue for the liquor establishments who have video gaming as discussions have taken place regarding whether liquor establishments with video gaming should not have over 49% revenue from video gaming. Chairman Puhr yielded time to audience member Michael Gregory, owner of the Big Four Tavern who stated there was a problem with the revenue figures in the spreadsheet. Alderman Iverson stated it is too hard to determine the percentage as it is flawed. Mayor Williams stated the County does has a separate liquor class for video gaming and limiting the number of licenses. Chairman Puhr stated bars cannot rely on bar sales alone. Alderman Pickering would like to consider a different liquor class and to look at limiting establishments with video gaming.
#13 ADJOURNMENT
There being no further items on the agenda, the meeting was adjourned at 7:35 p.m. by acclamation after a motion by Alderman Iverson and a second by Alderman Pickering.
http://www.cityofdanville.org/uploads/6/7/5/0/6750232/public_works_minutes_09_10_19.pdf