Joint Senate and House Higher Education Group touts 'groundbreaking' legislation
Sen. Chapin Rose (R-Mahomet)
After 17 meetings, the Joint Senate and House Higher Education Group is setting new standards for state-funded schools.
At a recent press conference, the bipartisan group of senators and state representatives, led by Chair Emanuel "Chris" Welch (D-Westchester), discussed legislation they promise will transform learning institutions in Illinois.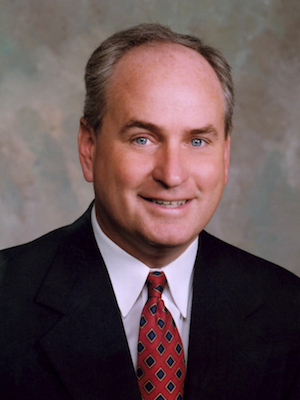 Rep. Dan Brady (R-Normal) | http://www.rep-danbrady.com/p/about.html
"We have put together five bills and one resolution we believe will help put Illinois higher education back on track to be the best system in the country," Welch said.
The package is just the beginning, according to Welch, who said lawmakers will be meeting over the summer to strengthen higher education legislation.
"We are proud of the work to date because we believe [that] in order to fix the Illinois economy, we have to do it through our higher education system," Welch said.
Calling up respective lawmakers and their bills, Sen. Chapin Rose (R-Mahomet) was the first Republican to speak. He said that lawmakers kicked out all the university presidents from one of the meetings so they could speak to the admission officers privately.
"One of the things we heard time and time again from every single public four-year institution was [that] these out-of-state schools come in and offer four-year awards," Rose said.
That is why the group created HB 5020, a bill that would allow for renewing applicants to receive funds from a Monetary Award Program grant.
"Illinois has the crown jewel of the higher education system in the United States," Rose said.
After Rose said the package should send a clear message to Illinois students that lawmakers want them to stay in state, Sen. Tom Rooney (R-Rolling Meadows) discussed SJR76, a resolution that helps with credit transfers.
"It is basically going to have the universities cooperatively taking a look at every instance of transfer credits to try to look for those little patterns that are evading us now," Rooney said.
Further explaining SJR76, Rep. Robert Pritchard (R-Sycamore) said officials are addressing the numbering system in credit transfers.
"And a third thing we are doing with this resolution is informing high school counselors about the whole articulation process and how they can advise students to transfer courses they may have even earned in high school," Pritchard said.
Calling the complete package of bills a groundbreaking endeavor, Sen. Paul Schimpf (R-Waterloo) presented SB 2969, which expands debt limits at public universities.
"It will allow them to address some of the deferred maintenance issues that they are facing," Schimpf said before handing over the microphone to co-sponsor Rep. Norine Hammond (R-Macomb).
Hammond said that lawmakers felt that helping universities was just as key as helping students, which was why SB 2969 was created.
"It gives them some leeway," she said.
Concluding the conference, Rep. Dan Brady (R-Normal) presented HB 4781, which streamlines admission testing and information. He said the bill, as with the other legislation, will help convince students to stay in state.
"There is more work to be done," Brady said. "I think we all agree on that."
Want to get notified whenever we write about
State of Illinois General Assembly
?
Next time we write about State of Illinois General Assembly, we'll email you a link to the story. You may edit your settings or unsubscribe at any time.
Sign-up for Alerts
Organizations in this Story
State of Illinois General Assembly
More News