Caulkins claims Madigan is 'putting politics ahead of policy' with recent op-ed piece
Dan Caulkins
Dan Caulkins wants voters to remember actions speak louder than words when it comes to assessing House Speaker Mike Madigan.
Madigan recently penned a Chicago Tribune op-ed where he admitted he doesn't think he's done enough to combat sexual harassment in Springfield.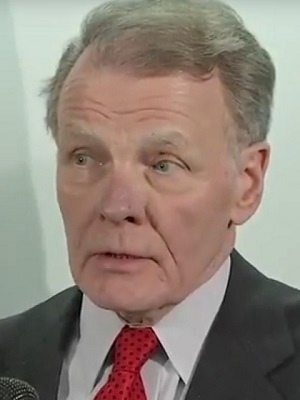 House Speaker Mike Madigan (D-Chicago)
"His words ring hollow, especially when you consider what he's done with the inspector general position," Caulkins told the Chambana Sun. "It's too little, too late. And if he was serious, (Rep.) Lou Lang (D-Skokie) would already be gone."
Lang is Madigan's top deputy who was forced to resign from his leadership post after being accused by a female associate of retaliation, verbal abuse and "inappropriate behavior."
Meanwhile, Madigan has frequently come under fire as several other members of his political and government organization have become ensnared in other accusations.
Chief among them is former Chief of Staff Tim Mapes, who was forced to resign earlier this summer after being accused of bullying and harassment by fellow staffer Sherri Garrett. In addition, Rep. Kelly Cassidy (D-Chicago) said she felt targeted by Mapes after he called the Cook County sheriff's office to inquire about a part-time job she held there after she publicly criticized Madigan.
Madigan now pledges to enforce a zero-tolerance policy when it comes to abusive behavior.
It is more than just coincidence that Madigan's contrition comes about at a time when he might be more vulnerable, Caulkins said.
"I think he sees that this is an issue that could hurt him at the polls," said Caulkins, who is running against Democrat Jen McMillin in the 101st District. "He knows this is an issue that truly resonates with women and he's trying to make up for all he's done wrong."
Democratic operative Alaina Hampton accused top aide Kevin Quinn in February of sending her inappropriate text messages leading to his ouster, Madigan claims he has met with more than 100 women in hopes of figuring out how he could better do his job of making sure they feel protected.
He still has a long way to go, Caulkins said.
"He is out of touch with just doing what is the decent thing," he said. "I see this as just another attempt to sway public opinion, a publicity stunt to get his message out to female voters. He's trying to make up for bad behavior without really doing anything to atone for it, just more putting politics ahead of policy."
The 101st House District spans parts of Champaign, DeWitt, Macon, McLean and Piatt counties.
Want to get notified whenever we write about
Committee to Elect Dan Caulkins
?
Next time we write about Committee to Elect Dan Caulkins, we'll email you a link to the story. You may edit your settings or unsubscribe at any time.
Sign-up for Alerts
Organizations in this Story
Committee to Elect Dan Caulkins
More News