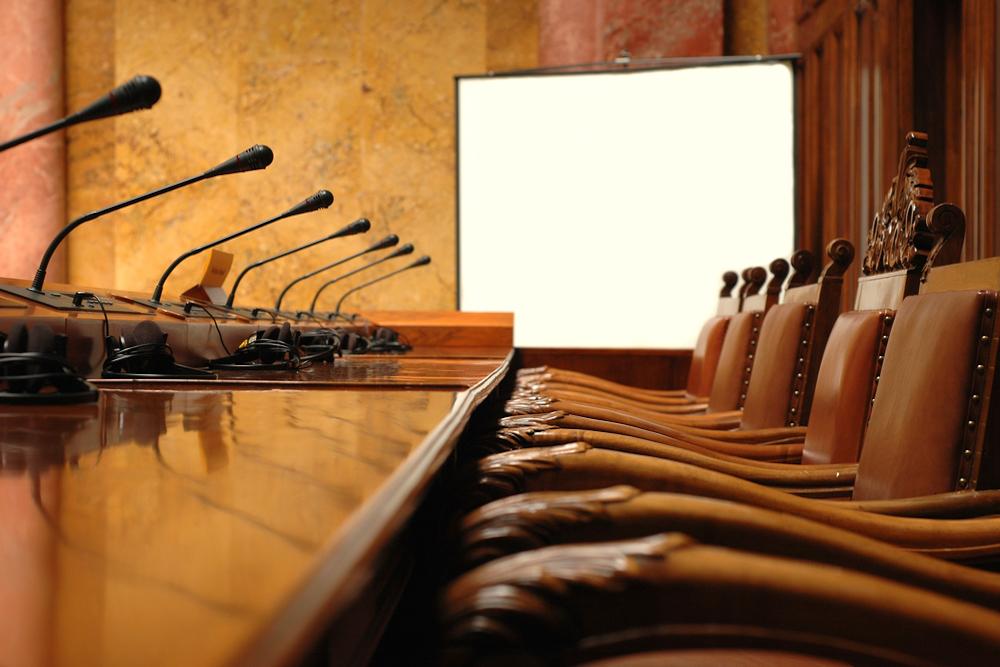 Champaign County Committee of the Whole met March 10.
Here is the agenda provided by the committee:
I. Call to Order
II. Roll Call
III. Approval of Agenda/Addenda
IV. Approval of Minutes
A. February 11, 2020
V. Public Participation
VI. Presentation
A. Rosecrance Re-Entry Program
B. Community Justice Collaborative
VII. Communications
VIII. Justice and Social Services
A. Monthly Reports – All reports are available on each department's webpage through the department reports page at: http://www.co.champaign.il.us/CountyBoard/Reports.php
• Probation & Court Services – January 2020
• Emergency Management Agency – February 2020
• Head Start – December 2019
B. Rosecrance Re-Entry Financial Report (information only)
• January 2020 Report
• Mid-Year Annual Report – July 1, 2019-December 31, 2019
C. Other Business
D. Chair's Report
E. Designation of Items to be Placed on the Consent Agenda
IX. Finance
A. Budget Amendments/Transfers
1. Budget Amendment 20-00008
Fund 080 General Corporate / Dept 077 Zoning and Enforcement
Increased appropriations: $7,741
Increased revenue: $0
Reason: Re-encumber IEMA Planning Grant funds received in FY2019 for the Champaign County Multi-Jurisdictional Hazard Mitigation Plan Update project in FY2020
2. Budget Amendment 20-00009
Fund 104 Early Childhood Fund / Dept 601 Child Care Program
Increased appropriations: $698,511
Increased revenue: $698,511
Reason: This amendment is the result of additional state funding to support two preschool (ages 3-5) classrooms for 34 children for 10 hours/day. This will address a portion of the outstanding waiting list for preschool childcare services and the ongoing need for families that work or are going to school. Programming will take place at the west Champaign location.
B. Treasurer
1. Resolution authorizing the execution of a deed of conveyance of the County's interest or cancellation of the appropriate certificate of purchase on real estate, permanent parcel 20-09-10-426-002
2. Resolution authorizing the cancellation of the appropriate certificate of purchase on a mobile home, permanent parcel 20-032-0025
3. Resolution authorizing the County Board Chair to assign a mobile home tax sale certificate of purchase, permanent parcel 15-025-0513
4. Resolution authorizing the County Board Chair to assign a mobile home tax sale certificate of purchase, permanent parcel 30-054-0009
5. Resolution authorizing the County Board Chair to assign a mobile home tax sale certificate of purchase, permanent parcel 30-058-0078
6. Resolution authorizing the County Board Chair to assign a mobile home tax sale certificate of purchase, permanent parcel 30-064-0115
C. Auditor
1. Monthly Report – January 2020 – Reports are available on the Auditor's webpage at:
http://www.co.champaign.il.us/auditor/countyboardreports.php
• Update on 2019 accruals
D. County Executive
1. Ordinance establishing a Property Assessed Clean Energy (PACE) Program in the County of Champaign, designating a PACE area, providing for property assessments and approving related matters (to be distributed at meeting)
E. County Board
1. Request for reimbursement of travel expenses by County Board Member Mike Ingram
F. Other Business
G. Chair's Report
H. Designation of Items to be Placed on the Consent Agenda
X. Policy, Personnel, & Appointments
A. County Executive
1. Monthly HR Report – February 2020
2. Appointments/Reappointments (persons to be appointed distributed at the meeting)
a. Supervisor of Assessments – 1 position (italics indicates incumbent)
Applicant:
• Paula Bates
B. County Clerk
1. February 2020 Report
• Website presentation (information only)
C. Other Business
D. Chair's Report
1. County Executive appointments expiring March-May 2020 (information only)
a. Board of Review (3 positions) – Expiring May 31, 2020
b. Urbana-Champaign Sanitary District – expiring May 31, 2020
c. Farmland Assessment Review Committee (2 positions) – expiring May 31, 2020
d. Public Water Districts (multiple vacancies) – expiring May 31, 2020
e. Fire Protection Districts (1 position in all districts) – expiring April 30, 2020
f. Supervisor of Assessments – expiring April 2, 2020
g. Community Action Board – expiring March 31, 2020
2. Currently vacant appointments made by the County Executive – full list and information is available on the County's website at:
http://www.co.champaign.il.us/CountyExecutive/appointments/CurrentVacantOpenings.pdf
E. Designation of Items to be Placed on the Consent Agenda
XI. Other Business
XII. Adjournment
http://www.co.champaign.il.us/CountyBoard/Committee_Of_The_Whole/2020/200310_Meeting/200310%20Agenda.pdf