Champaign County Nursing Home Board of Directors met May 8.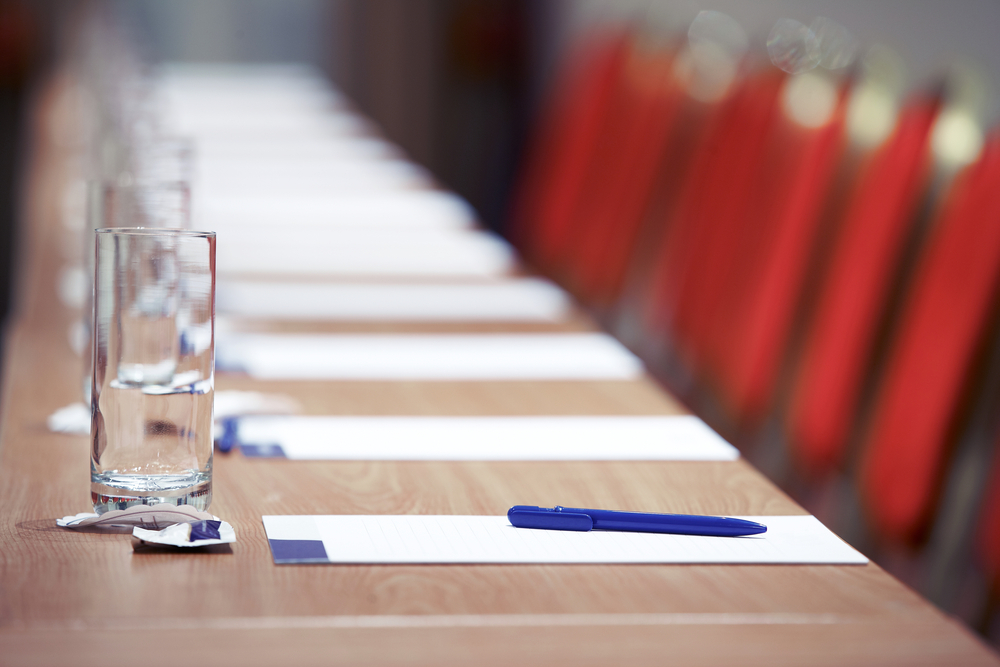 Champaign County Nursing Home Board of Directors met May 8.
Here is the minutes provided by the Board:
1. Call to Order
Chair Anderson called the meeting to order at 6:00 p.m.
2. Roll Call
Asplund called the roll of Directors. A quorum was established.
3. Approval of Agenda
The board approved the agenda as distributed (motion by Hartke, second by Busey, unanimous).
4. Approval of Minutes
The board approved the open session minutes of April 10, 2017 as distributed (motion by Hartke, second by Busey, unanimous).
5. Public Participation
David Laker expressed his appreciation for the time the board spends attending these meetings. He stated he is frustrated to be talking about the same problems he complained about 37 months ago, when his wife first came to the Nursing Home. Mr. Laker commented there are many new employees recently. He called the dining room a "zoo". Mr. Laker listed several issues in the dining area, including napkins, food temperature, and excessive wait times for food service.
Richard Kruidenier stated he believes the consolidation has been good for management and use of resources. He stated the problem is that it is too crowded. Mr. Kruidenier said the dining room is chaotic and too loud. He asked whether the County is still considering the sale of Brookens. Mr. Kruidenier expressed concern over the number of separations in the previous month. He commented that residents are worried about the future of the home. He echoes Mr. Laker's comments regarding turnover and all the new employees recently.
6. Communications
Catherine Emanuel announced Friends of Champaign County has launched the Above and Beyond recognition program. She encouraged board members to participate in the Nursing Home Week program on May 19 at 2:30 p.m. Ms. Bloomfield commented this will be held in the Courtyard at the Nursing Home. Ms. Emanuel will email the board with details.
Josh Hartke stated if the Nursing Home becomes a private institution, meetings like this would no longer be public.
Mary Hodson thanked Champaign and CU Sunrise Rotary chapters who volunteered recently.
7. Management Update
Scott Gima stated there are now 47 open Medicaid applications, with 14 approved and awaiting payment. Mr. Gima provided updates on the activity at the DHS hubs and a meeting he had with Senator Bennett. According to Mr. Gima, there are 32 current residents with open applications; representing approximately $100,000 in cash receipts on a monthly basis.
Mr. Snider commented the Nursing Home will have to draw on the County's line of credit to cover the next payroll.
8. For Information Only
Mr. Snider stated the entities of interest have agreed to meet to explore the potential for a not-for- profit consortium.
Mr. Snider reviewed the RFI encompassing all the options for the Nursing Home. He noted the scope of services includes language so the chosen entity is mandated to work with the County Board to develop strategies and timelines, from an operational perspective in order to continue to offer services to the residents of the home.
The board discussed the statutes relating to the potential lease of the home. Mr. Snider indicated there is no a clear path forward to pursue this as an option. Mr. Gima noted he is unfamiliar with any nursing home in Illinois that is currently leased out.
9. New Business
Mr. Snider reviewed the two temporary job descriptions of Nursing Home Administrator and Operations Manager. He commented that the Operations Manager position would take over the duties currently being performed by MPA. Ms. Busey noted that the definition of a temporary position is less than 1000 hours in a fiscal year. Ms. Busey raised some technical issues with both the descriptions. She requested language to reflect the responsibility in terms of the Nursing Home Board of Directors. Mr. Snider asked the board members to provide feedback and requests for changes directly to him.
Mr. Snider provided the board with the draft of RFP 2017-005 for Management and Consulting Services for Champaign County Nursing Home. He noted it is his intention to get approval for the RFP at tomorrow's County Board meeting. Ms. Emanuel asked the wording with regard to the transfer or sale of the home be changed to reflect that it is only a possibility; not a certainty.
Mr. Snider talked about a meeting with the Nursing Home employee group regarding morale. He suggested an event to invite community and potential employees to see the Nursing Home. Mr. Snider commented there might be a need to offer incentives to retain key staff members. Mr. Snider stressed the purpose is to provide continuity of service for the Nursing Home residents. He asked the board for ideas to assist with public relations. Mr. Hartke suggested exploring recruiting high school volunteers to help at the Nursing Home. Mr. Anderson and Ms. Emanuel suggested this board volunteer to coordinate and hold this type of activity or event.
10. CLOSED Session
Motion by Ms. Busey to enter into Closed Session pursuant to 5 ILCS 120/2(c)1 to consider the employment, compensation, discipline, performance or dismissal of specific employees of Champaign County and that the following parties remain present: County Administrator, MPA VP,
MPA CFO, Director, HR Director, Compliance Director and recording secretary; seconded by Mr. Sutton.
Roll call vote: Aye: 6 –Sutton, Busey, Emanuel, Hartke, Hodson, Anderson Nay: 0 Motion carried with unanimous support.
The Nursing Home Board of Directors entered into Closed Session at 7:47 p.m.
The Nursing Home Board of Directors resumed Open Session at 8:09 p.m.
11. Other Business
a. Approval of closed session minutes of April 10, 2017
The board approved the closed session minutes of April 10, 2017 as distributed (motion by Sutton, second by Hodson, unanimous).
12. Next Meeting Time & Date
The next meeting is scheduled for Monday, June 12, 2017 at 6:00 pm.
13. Adjournment
Motion by Hodson to adjourn the meeting; seconded by Emanuel. Upon vote, Motion Carried. Meeting adjourned at 8:11 p.m.
http://www.co.champaign.il.us/CountyBoard/NH/2017/170508_Meeting/170508minutes.pdf
Want to get notified whenever we write about
Champaign County Nursing Home Board of Directors
?
Next time we write about Champaign County Nursing Home Board of Directors, we'll email you a link to the story. You may edit your settings or unsubscribe at any time.
Sign-up for Alerts
Organizations in this Story
Champaign County Nursing Home Board of Directors
More News